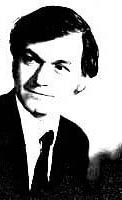 Sir Roger Penrose Society
ROGER PENROSE
Biography:
Associate of the National Academy of Sciences
Encyclopaedia Britannica
Professor Sir Roger Penrose
Roger Penrose - Biography
Roger Penrose (in Swedish)
Roger Penrose (in German)
World of Escher's Penrose site
Awards (That we know of):
Adams Prize of Cambridge University
Dannie Heineman Prize for mathematical physics, 1971
First Prize of the Gravity Research Foundation
Knighted for services to science, 1994
Medal of the Albert Einstein Society
The Albert Einstein prize
The Dirac Prize and Medal of the British Institute of Physics
The Eddington Medal of the Royal Astronomical Society
The Naylor Prize of the London Mathematical Society.
The Rhône-Poulenc prize, 1990
The Royal Medal of the Royal Society of London, 1985
The Simon Newcomb Award (Some jokers at AAAI personal revenge).
Wolf Prize in Physics, 1988
News and Articles about Penrose:
Sir Roger Penrose: A Mathematician at Play in the Fields of Space-Time (January 19, 1999)
APPOINTED GRESHAM PROFESSOR OF GEOMETRY, 1998
Danish Penrose interview
Toilet Paper Plagiarism
Trinity 1997 Issue 1: News: Kleenex concerns
Educational institutes:
American Physical Society
Cambridge University
National Academy of Sciences
Oxford University
Penn State's Center
Royal Astronomical Society
Royal Society of London
University College in London
Wadham College
Various:
A symposium on Roger Penrose's Shadows of the Mind
coolmemes.com
Conscious computers: Machines you didn't dream of, Roger
Gaps in Penrose's toilings [according to Grush and Churchland]
Penrose is Wrong
Penrose's main argument [according to Grush and Churchland]
Penrose om Bevidsthed (in Danish)
Science and the Mind (Penrose Lecture in audio!)
Scientific Theories, Rated
The ACCESS INDIANA Teaching & Learning Center
The Nature of Space and Time
The non-algorithmic character of human consciousness
The Ontology and Cosmology of Non-Euclidean Geometry
We Really Need to Learn More about the Physical World
SELMER BRINGSJORD
Selmer Bringsjord's Web Site
Searle on the Brink
DAVID CHALMERS
A Computational Foundation for the Study of Cognition
Absent Qualia, Fading Qualia, Dancing Qualia
Availability: The Cognitive Basis of Experience?
David Chalmers
Does a Rock Implement Every Finite-State Automaton?
Facing up to the problem of consciousness
Minds, Machines, and Mathematics
Review and such for The Conscious Mind
The Components of Content
The Extended Mind
DANIEL DENNETT
Daniel C. Dennett's Home Page
Center for Cognitive Studies
Facing backwards on the problem of consciousness
The new epiphenomenalism
HURBERT DREYFUS
What Computers Still Can't Do
Simon's simple solutions
Science and human capacities
ALBERT EINSTEIN
Albert Einstein biography
The World As I See It
WHY SOCIALISM?
PETER GÄRDENFORS
Peter Gärdenfors's home page
KURT GÖDEL
Gödel's Incompleteness Theorem
Mind Versus Gödel
Kurt Gödel biography
The Kurt Gödel Society
DOUGLAS HOFSTADTER
Goedel, Escher, Bach: an Eternal Golden Braid
Hofstadter home page
Mårten's GEB Page
Interview
Fluid Concepts and Creative Analogies
STUART HAMEROFF
Discussion about the "orch-OR"Modell
Stuart Hameroff's Webbsite
STEPHEN HAWKING
A Brief History of Time (in Norwegian)
Encyclopaedia Britannica
Einstein's and Hawking's conclusions about God
Stephen Hawking Page
J. R. LUCAS
BENOIT MANDELBROT
OLIVER PENROSE
KARL POPPER
Sir Karl Popper (1902-1994)
The Japan Popper Society
The Karl Popper Web
JOHN SEARLE
INTENTIONALITY AND CAUSALITY IN JOHN SEARLE
Minds, Machines and Searle
Power in the Chinese Room
Searle on the Brink
Virtual Mind
What Brain for God's-eye?
MAX TEGMARK
Home page of Max Tegmark
Max Tegmark's quantum mechanics library: brain
Max Tegmark's Bibliography